Published by PRESSES DE LA CITE Editions

| | |
| --- | --- |
| | Source: Presses de la Cité Editions |
Star goes in depth with Jerry Doby
Responsible Author: Jerry Doby | Kansas City, 05/26/2019, 20:08 Time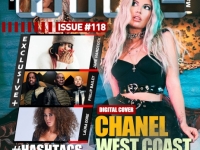 USPA NEWS -
Rapper, Singer and Television personality (MTV's Ridiculousness) Chanel West Coast broke out in 2012 when she signed to Lil Wayne and Young Money and dropped her ode to iconic fashion designer Karl Lagerfeld entitled "Karl." That seemed to set the tone for the dynamo as her body of work continues to highlight what she calls the "beauty shot" in her visuals along with a blend of soul touching timbre in her singing and total cleverness in her rap style. She's that perfect blend of all that makes for a super creative including taking the director's seat and delivering cinematic visuals as in her directorial debut this year for her "The Middle" music video which also showcased her vocal prowess.
Published by L ARCHIPEL Editions
Responsible Author: Ruby BIRD & Yasmina BEDDOU (Journalists/Directors) | PARIS - NEW YORK - WASHINGTON DC, 05/24/2019, 22:29 Time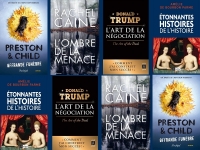 USPA NEWS -
---- "Offrande Funèbre" (Verses For The Dead) By Preston & Child and Just Published in FRANCE By L'Archipel Editions. Douglas Preston was born in Cambridge, Massachusetts, in 1956, and grew up in the deadly boring suburb of Wellesley. After unaccountably being rejected by Stanford University (a pox on it), Preston attended Pomona College in Claremont, California, where he studied mathematics, biology, physics, anthropology, and geology, before settling down to English literature. After graduating, Preston began his career at the American Museum of Natural History in New York as an editor, writer, and manager of publications. Preston also taught nonfiction writing at Princeton University. His eight-year stint at the Museum resulted in the non-fiction book, Dinosaurs in the Attic, edited by a rising young star at St. Martin's Press, Lincoln Child. During this period, Preston gave Child a midnight tour of the museum, and in the darkened Hall of Late Dinosaurs, under a looming T. Rex, Child turned to Preston and said: "This would make the perfect setting for a thriller!" That thriller would, of course, be Relic....
| | |
| --- | --- |
| | RAHMA-SOPHIA RACHDI |
| | Daren Frankish |
| | Ruby BIRD |
| | Yasmina BEDDOU |
| | Roberto Magni |